It's only hypercritical people like me who think that the Biden administration is doing an utterly terrible job. The reality is, everything is just fine except for a few pesky hoarders who are causing problems.
The mainstream media, POTUS's Chief of Staff, and White House spokeswoman Jen Psaki said so, and we all know they're both utterly reliable sources.
Grocery store shelves ARE full
In reality, grocery store shelves are full. They're full because they took a page from the script of The Interview, in which two goofy journalists go to North Korea to interview/kill Kim Jong Un. At first, they fall for the propaganda, but then one of the journalists enters the shop that looks to be loaded with abundance only to find out that the food is fake.
After #EmptyShelvesJoe trended on Twitter last week, Zero Hedge reports that retailers got serious about covering the gaps. They pointed out that all over the nation, stores are filling shelves with a single line of the few things they have to make it appear the inventory is full and things are thriving, sharing the following tweets.
Our Safeway appears to be trying to hide the supply shortage by using single lines of products to fill shelves. Leading to this: pic.twitter.com/CDXR67FYRu

— Ashe Short (@AsheSchow) October 21, 2021
Wtf pic.twitter.com/xYFleLaMl1

— Art TakingBack 🇺🇸 (@ArtValley818_) October 21, 2021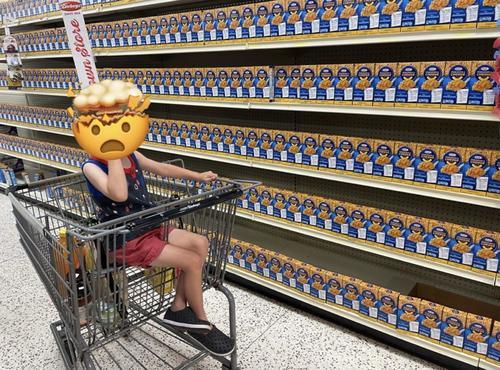 And it's not just in the United States, incidentally. In London, a Twitter user claimed that Tesco had gone one step further and actually put out fake asparagus.
Tesco have the fake asparagus out this morning pic.twitter.com/QokEJGs81W

— 👻🦇🎃Patrick-or-Treat Dalton 💀🎃🦇 (@shitlondon) October 22, 2021
The comments on the Tweet (which is a reply to the asparagus Tweet) suggest that this photo is from Kroger somewhere in the United States.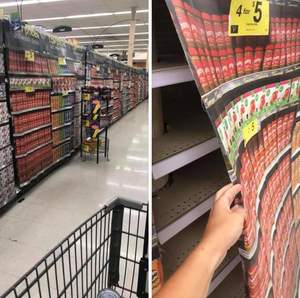 We're sure that this is isolated and not a harbinger of things to come. Right? RIGHT?
Jen Psaki says this is actually a good sign
And hey, you should rest easy because White House Spokesperson Jen Psaki wants you to know that these empty shelves are actually just a sign the economy is perking up.
White House Chief of Staff Ron Klain pooh-poohed the issue of empty shelves, retweeting some yahoo who said, "Most of the economic problems we're facing (inflation, supply chains, etc.) are high class problems."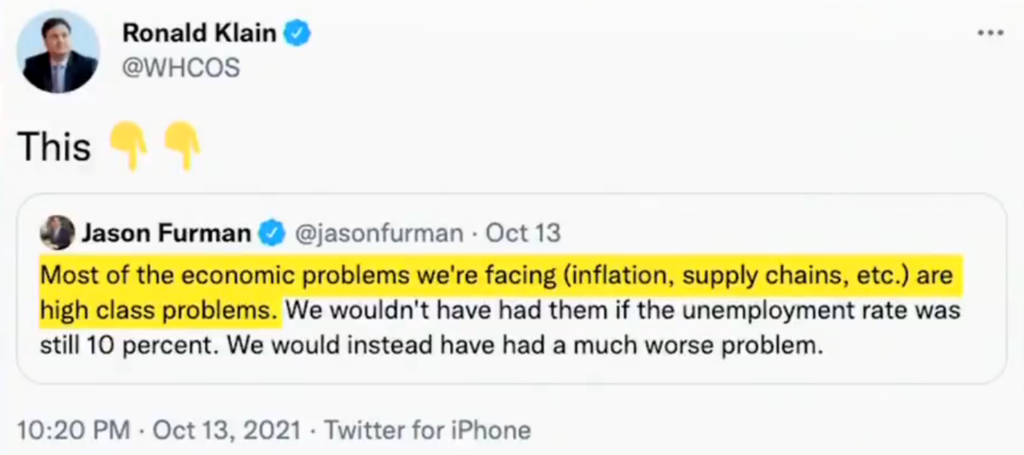 Psaki took to CNN to try and defend Klain's retweet, and even CNN called her out. Zero Hedge reports:
Jake Tapper says to Psaki. "Doesn't it seem tone deaf to say rising prices and empty grocery store shelves are 'high class problems'? Isn't that a bit dismissive?," Tapper asked.
Psaki responded by saying: "The fact is that the unemployment rate is half of what it was about a year ago."
"More people have jobs, more people are buying goods, that's increasing demand. That's a good thing. At the same time, we know supply is low because we're coming out of the pandemic," Psaki answers.
"What people should know is inflation is going to come down next year, economists have said that, they're all projecting that," she continued. (source)
I particularly love how Psaki boasts that the unemployment rate is better than when Fauci forced businesses to shut down, like this is some kind of accomplishment. Anyway, you all should stop complaining about your high-class problems, pay extra for your paper asparagus, and shut up.
It's obvious that nobody in the White House actually cares about these problems because they're not directly affected by them. They exist in a protected bubble where there's plenty of food and plenty of money.
And of course, there are the "hoarders" to blame again
Last year when the first lockdown occurred and the shelves were wiped bare in a matter of a day, the mainstream media blamed selfish preppers and hoarders. First of all, I'd like to point out that we preppers already had our stuff. Secondly, it isn't hoarding to supply food for your family when you see things going downhill fast.
But "hoarders" are a handy scapegoat and a great way to turn people against those who are prepared.
The founder of Saffron Road told Bloomberg:
"People are hoarding," said CEO and founder Adnan Durrani. "What I think you'll see over the next six months, all prices will go higher." (source)
Those thrice-damned hoarders again.
The USDA says there is NO shortage
Anyway, keep your britches on. The USDA themselves assure us that there aren't shortages in America.
There are currently no nationwide shortages of food, although in some cases the inventory of certain foods at your grocery store might be temporarily low before stores can restock. Food production and manufacturing are widely dispersed throughout the U.S. and there are currently no wide-spread disruptions reported in the supply chain.
USDA and the Food and Drug Administration are closely monitoring the food supply chain for any shortages in collaboration with industry and our federal and state partners. We are in regular contact with food manufacturers and grocery stores. (source)
So…we're fine.
Does any of this seem familiar?
I covered the fall of Venezuela in great detail before Jose came on board to share on the ground reports. Back in  2013, "hoarders" were threatened with detainment. Venezuelans were also told there was plenty of food.
Luisa Ortega Díaz, the Attorney General of Venezuela, issued a press release at the time.
The attorney general called on people to remain calm, not to fall for provocations, and not to be afraid of the "alleged" food shortage…
…According to a press release, the Attorney General Office has designated an ad hoc group of prosecutors to work nationwide with other authorities and cope with the threats against food security and, consequently, against the State. (source)
The government there took over the farms and production plants in 2015, but by 2016 had to admit that people were on their own, and there was no food.
Hmmm…it's almost like there's a guidebook for stuff like this.
So…shortages or no shortages?
If you are as concerned about supply chain issues as I am, you'll be doing your level best to get prepped while some supplies are still available. Here's some advice on prepping and creating your own supply chain.
What do you think about the shell game being played by the government and the media? Do you believe there are food shortages? Have you seen any of the "prop" food in your area? Are we being lied to yet again?
Image by jbarsky0 from Pixabay. Article cross-posted from The Organic Prepper.
---
---
Too Few Are Telling the Truth
Not long ago, conservative media was not beholden to anyone. Today, most sites are stuck on the Big Tech gravy train.
I'll keep this short. The rise of Pandemic Panic Theater, massive voter fraud, and other "taboo" topics have neutered a majority of conservative news sites. You'll notice they are very careful about what topics they tackle. Sure, they'll attack Critical Race Theory, Antifa, and the Biden-Harris regime, but you won't see them going after George Soros, Bill Gates, the World Economic Forum, or the Deep State, among others.
The reason is simple. They are beholden to Big Tech, and Big Tech doesn't allow certain topics to be discussed or they'll cut you off. Far too many conservative news outlets rely on Google, Facebook, and Twitter for the bulk of their traffic. They depend on big checks from Google ads to keep the sites running. I don't necessarily hold it against them. We all do what we need to do to survive. I just wish more would do like we have, which is to cut out Big Tech altogether.
We don't get Google checks. We don't have Facebook or Twitter buttons on our stories. We don't have a YouTube Channel (banned), and Instagram profile (never made one), or a TikTok (no thanks, CCO). We're not perfect, but we're doing everything we can to not owe anything to anyone… other than our readers. We owe YOU the truth. We owe YOU the facts that others won't reveal about topics that others won't tackle. And we owe America, this great land that allows us to take hold of these opportunities.
Like I said, I don't hold other conservative sites under too much scrutiny over their choices. It's easy for people to point fingers when we're not the ones paying their bills or supporting their families. I just wish there were more who would break away. Today, only a handful of other major conservative news outlets have broken away from the Big Tech teat. Of course, we need help.
The best way you can help us grow and continue to bring proper news and opinions to the people is by donating. We appreciate everything, whether a dollar or $10,000. Anything brings us closer to a point of stability when we can hire writers, editors, and support staff to make the America First message louder. Our Giving Fuel page makes it easy to donate one-time or monthly. Alternatively, you can donate through PayPal or Bitcoin as well. Bitcoin: 3A1ELVhGgrwrypwTJhPwnaTVGmuqyQrMB8
Our network is currently comprised of nine sites:
We are also building partnerships with great conservative sites like The Liberty Daily and The Epoch Times to advance the message as loudly as possible, and we're always looking for others with which to partner.
Also, we could use contributions of content. If you write or want to start writing and you share our patriotic, conservative, America First ideology, contact us. The contact form on this and all pages on the site goes directly to me.
Some of our content is spread across multiple sites. Other pieces of content are unique. We write most of what we post but we also draw from those willing to allow us to share their quality articles, videos, and podcasts. We collect the best content from fellow conservative sites that give us permission to republish them. We're not ego-driven; I'd much rather post a properly attributed story written by experts like Dr. Joseph Mercola or Natural News than rewrite it like so many outlets like to do. We're not here to take credit. We're here to spread the truth.
While donations are the best way to help, you can also support us by buying through our sponsors:
MyPillow: Use promo code "NOQ" to get up to 66% off AND you'll be helping a patriotic, America First company.
Freedom Phone: Use promo code "MAGA" and get $50 off AND you'll be helping a patriotic, America First company.
OurGoldGuy: Tell them we sent you in your request to buy gold and it will help us… AND (wait for it) you'll be helping a patriotic, America First company.
We know we could make a lot more money if we sold out like so many "conservative" publications out there. You won't find Google ads on our site for a reason. Yes, they're lucrative, but I don't like getting paid by minions of Satan (I don't like Google very much if you couldn't tell).
Time is short. As the world spirals towards The Great Reset, the need for truthful journalism has never been greater. But in these times, we need as many conservative media voices as possible. Please help keep NOQ Report and the other sites in the network going. Our promise is this: We will never sell out America. If that means we're going to struggle for a while or even indefinitely, so be it. Integrity first. Truth first. America first.
Thank you and God Bless,
JD Rucker
Bitcoin: 32SeW2Ajn86g4dATWtWreABhEkiqxsKUGn
---
---
Big Pharma's Five Major Minions that Everyone, Vaxxed or Unvaxxed, Must Oppose
This is not an "anti-vaxxer" article, per se. It's a call for everyone to wake up to the nefarious motives behind vaccine mandates, booster shots, and condemnation of freedom.
The worst kept secret in world history SHOULD be that the unquenchable push for universal vaccinations against Covid-19 has little if anything to do with healthcare and everything to do with Big Pharma's influence over the narrative. Unfortunately, that secret has stayed firmly hidden from the vast majority of people because of the five major minions working on behalf of Big Pharma.
What's even worse is the fact that Big Pharma's greed is merely a smokescreen to hide an even darker secret. We'll tackle that later. First, let's look at the public-facing ringleaders behind the vaccine push, namely Big Pharma. But before we get into their five major minions, it's important to understand one thing. This is NOT just an article that speaks to the unvaccinated. Even those who believe in the safety and effectiveness of the vaccines must be made aware of agenda that's at play.
Let's start with some facts. The unvaccinated do NOT spread Covid-19 more rampantly than the vaccinated. Even Anthony Fauci acknowledged the viral load present in vaccinated people is just as high as in the unvaccinated. This fact alone should demolish the vaccine mandates as it demonstrates they have absolutely no effect on the spread of the disease. But wait! There's definitely more.
This unhinged push to vaccinate everyone defies science. Those with natural immunity may actually have their stronger defenses against Covid-19 hampered by the introduction of the injections which fool the body into creating less-effective antibodies. Moreover, the push to vaccinate young people is completely bonkers. The recovery rate for those under the age of 20 is astronomical. Children neither contract, spread, nor succumb to Covid-19 in a statistically meaningful way. What they DO succumb to more often than Covid-19 are the adverse reactions to the vaccines, particularly boys.
All of this is known and accepted by the medical community, yet most Americans are still following the vaccinate-everybody script. It requires pure cognitive dissonance and an overabundant need for confirmation bias to make doctors and scientists willingly go along with the program. Yet, here we are and that should tell you something.
Before I get to the five major minions of of Big Pharma, I must make the plea for help. Between cancel culture, lockdowns, and diminishing ad revenue, we need financial assistance in order to continue to spread the truth. We ask all who have the means, please donate through our GivingFuel page or via PayPal. Your generosity is what keeps these sites running and allows us to expand our reach so the truth can get to the masses. We've had great success in growing but we know we can do more with your assistance.
Who does Big Pharma control? It starts with the obvious people, the ones who most Americans believe are actually behind this push. Our governments at all levels as well as governments around the world are not working with Big Pharma. They are working for Big Pharma. Some are proactive as direct recipients of cash. Others may oppose Big Pharma in spirit but would never speak out because they know anyone who does has no future in DC.
This may come as a shock to some, but it's Big Pharma that drives the narrative and sets the agenda for the "experts" at the CDC, FDA, WHO, NIH, NIAID, and even non-medical government organizations.
Most believe it's the other way around. They think that Big Pharma is beholden to the FDA for approval, but that's not exactly the case. They need approval for a majority of their projects, but when it comes to the important ones such as the Covid injections, Big Pharma is calling the shots. They have the right people in the right places to push their machinations forward.
That's not to say that everyone at the FDA is in on it. Big Pharma only needs a handful of friendlies planted in leadership in order to have their big wishes met. We have seen people quitting the FDA in recent weeks for this very reason. The same can be said about the other three- and five-letter agencies. Too many people in leadership have been bribed, bullied, or blackmailed into becoming occasional shills for the various Big Pharma corporations. Some have even been directly planted by Big Pharma. That's the politics of healthcare and science that drives such things as Covid-19 "vaccines."
Read the rest of this story, but please be sure to donate first if you can.
---
---
All ORIGINAL content on this site is © 2021 NOQ Report. All REPUBLISHED content has received direct or implied permission for reproduction.
With that said, our content may be reproduced and distributed as long as it has a link to the original source and the author is credited prominently. We don't mind you using our content as long as you help out by giving us credit with a prominent link. If you feel like giving us a tip for the content, we will not object!
JD Rucker – EIC
@jdrucker
---