Editor's Commentary: There are already many people who are attacking Elon Musk over this move, claiming that he's being vindictive after getting insulted by Ukrainian officials. But the same people who are attacking him are the most sensitive and vindictive people on social media right now.
It's understandable that people who embraced the Ukrainian government in the beginning have a hard time acknowledging that we now know it was a scam. But as Tyler Durden from Zero Hedge notes in the article below, Musk's generosity is not unlimited and our willingness to accept the narrative that Volodymyr Zelensky is the "hero of democracy" must be limited as well. We cannot continue sending billions of dollars when our own citizens are struggling to put food on the table. Here's Tyler…
---
Elon Musk's SpaceX has been generous in providing free Starlink satellite internet terminals for Ukraine's military to boost communication channels as the war enters its eighth month.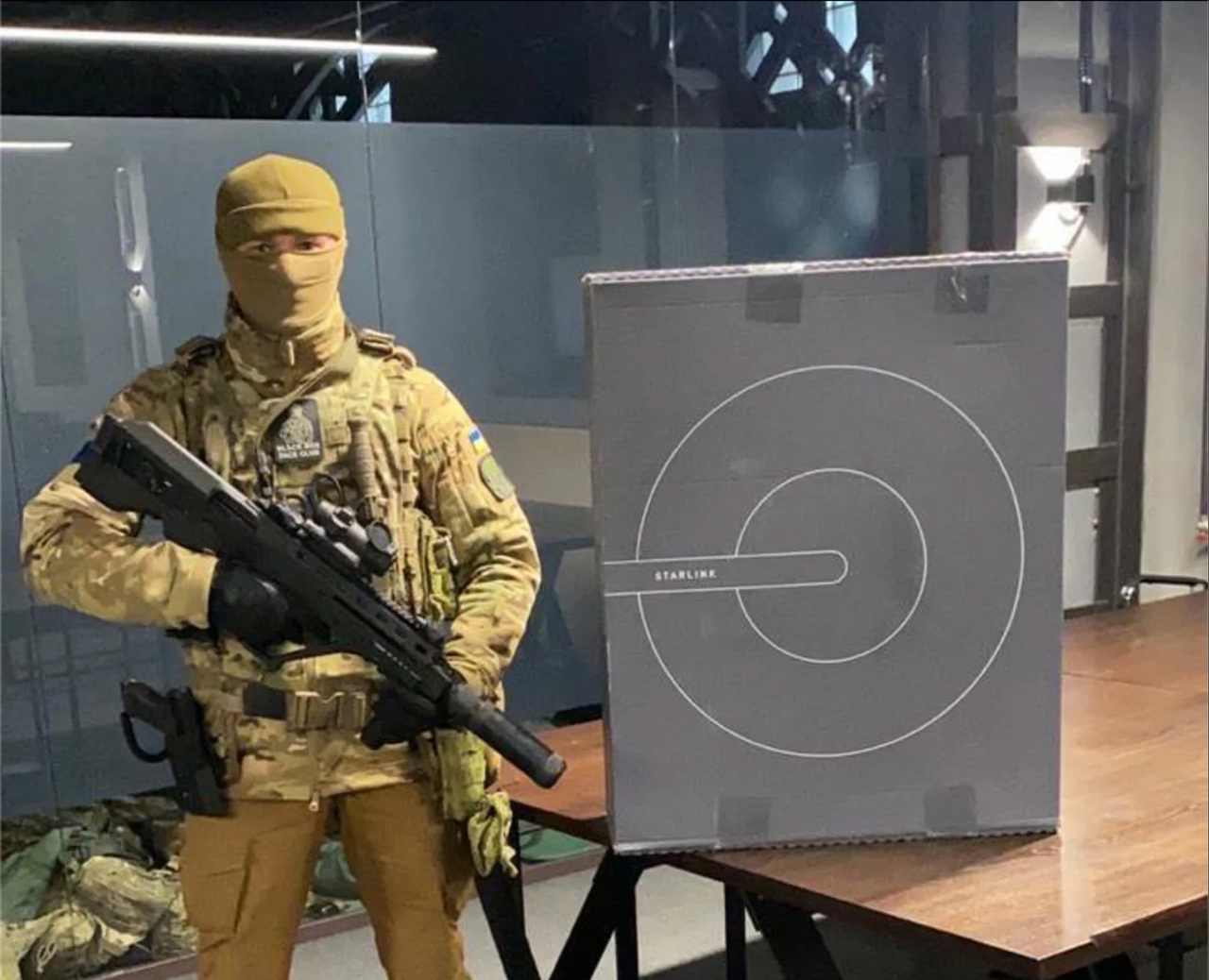 Musk recently tweeted the Ukrainian "operation has cost SpaceX $80 million and will exceed $100 million by the end of the year."
Bad reporting by FT. This article falsely claims that Starlink terminals & service were paid for, when only a small percentage have been.

This operation has cost SpaceX $80M & will exceed $100M by end of year.

As for what's happening on the battlefield, that's classified.

— Elon Musk (@elonmusk) October 7, 2022
But those charitable donations of more than 20,000 Starlink terminals (and counting…) have just come to an abrupt end. CNN obtained a new letter that SpaceX sent the Pentagon, warning about the need for funding to maintain the service in the war-torn country, which costs upwards of $20 million per month (and most of it has been footed by SpaceX).
In addition to terminals, we have to create, launch, maintain & replenish satellites & ground stations & pay telcos for access to Internet via gateways.

We've also had to defend against cyberattacks & jamming, which are getting harder.

Burn is approaching ~$20M/month.

— Elon Musk (@elonmusk) October 14, 2022
The letter continued with the need for the Pentagon to take over Starlink's expenses. In the next 12 months, Starlink forecasted the service would cost upwards of $400 million.
"We are not in a position to further donate terminals to Ukraine, or fund the existing terminals for an indefinite period of time," SpaceX's director of government sales wrote in the letter. 
Musk on Friday confirmed the letter as he responded to a Kyiv Post journalist on Twitter, saying he only followed the advice of a Ukrainian diplomat who told him to "F*** off."
We're just following his recommendation 🤷‍♂️

— Elon Musk (@elonmusk) October 14, 2022
Musk also said: "Starlink is still losing money … goal is "not to go bankrupt."
Also, Starlink is still losing money! It is insanely difficult for a LEO communications constellation to avoid bankruptcy – that was the fate of every company that tried this before.

When asked what the goal of Starlink was at a space conference, I said "not go bankrupt".

— Elon Musk (@elonmusk) October 14, 2022
The letter comes after reports of widespread Starlink outages across Ukraine. The Financial Times reported that Ukrainian troops had experienced issues with their terminals.
CNN said, "sources familiar with the outages said they suddenly affected the entire frontline as it stood on September 30." Starlink has been the primary communication link on the battlefield since Russia bombed the country's infrastructure.
SpaceX's request for funding or it would stop providing free access comes after Musk tweeteed about a controversial peace plan.
Between Central Bank Digital Currencies being tested in America and the globalist elite cabal pushing for The Great Reset when the "tests" are over, it's clear Americans need to move their wealth and retirement to precious metals ASAP. Here are
three America-First companies
that do not donate to Democrats or work with the CCP.
This is highly likely to be the outcome in the end – just a question of how many die before then

— Elon Musk (@elonmusk) October 3, 2022
Starlink is essential to the Ukrainian military, and one would suspect that the Pentagon would pick up the tab if US' proxy war against Russia wants to be successful.
---
---
Most "Conservative" News Outlets Are on the Big Tech Teat
Not long ago, conservative media was not beholden to anyone. Today, most sites are stuck on the Big Tech gravy train.
I'll keep this short. The rise of Pandemic Panic Theater, massive voter fraud, and other "taboo" topics have neutered a majority of conservative news sites. You'll notice they are very careful about what topics they tackle. Sure, they'll attack Critical Race Theory, Antifa, and the Biden-Harris regime, but you won't see them going after George Soros, Bill Gates, the World Economic Forum, or the Deep State, among others.
The reason is simple. They are beholden to Big Tech, and Big Tech doesn't allow certain topics to be discussed or they'll cut you off. Far too many conservative news outlets rely on Google, Facebook, and Twitter for the bulk of their traffic. They depend on big checks from Google ads to keep the sites running. I don't necessarily hold it against them. We all do what we need to do to survive. I just wish more would do like we have, which is to cut out Big Tech altogether.
We don't get Google checks. We don't have Facebook or Twitter buttons on our stories. We don't have a YouTube Channel (banned), an Instagram profile (never made one), or a TikTok (no thanks, CCP). We're not perfect, but we're doing everything we can to not owe anything to anyone… other than our readers. We owe YOU the truth. We owe YOU the facts that others won't reveal about topics that others won't tackle. And we owe America, this great land that allows us to take hold of these opportunities.
Like I said, I don't hold other conservative sites under too much scrutiny over their choices. It's easy for people to point fingers when we're not the ones paying their bills or supporting their families. I just wish there were more who would make the bold move. Today, only a handful of other major conservative news outlets have broken free from the Big Tech teat. Of course, we need help.
The best way you can help us grow and continue to bring proper news and opinions to the people is by donating. We appreciate everything, whether a dollar or $10,000. Anything brings us closer to a point of stability when we can hire writers, editors, and support staff to make the America First message louder. Our Giving Fuel page makes it easy to donate one-time or monthly. Alternatively, you can donate through PayPal or Bitcoin as well. Bitcoin: 3A1ELVhGgrwrypwTJhPwnaTVGmuqyQrMB8
Our network is currently comprised of six sites:
We are also building partnerships with great conservative sites like The Liberty Daily and The Epoch Times to advance the message as loudly as possible, and we're always looking for others with which to partner.
Some of our content is spread across multiple sites. Other pieces of content are unique. We write most of what we post but we also draw from those willing to allow us to share their quality articles, videos, and podcasts. We collect the best content from fellow conservative sites that give us permission to republish them. We're not ego-driven; I'd much rather post a properly attributed story written by experts like Dr. Joseph Mercola or Natural News than rewrite it like so many outlets like to do. We're not here to take credit. We're here to spread the truth.
While donations are the best way to help, you can also support us by buying through our sponsors:
We know we could make a lot more money if we sold out like so many "conservative" publications out there. You won't find Google ads on our site for a reason. Yes, they're lucrative, but I don't like getting paid by minions of Satan (I don't like Google very much if you couldn't tell).
Time is short. As the world spirals towards The Great Reset, the need for truthful journalism has never been greater. But in these times, we need as many conservative media voices as possible. Please help keep NOQ Report and the other sites in the network going. Our promise is this: We will never sell out America. If that means we're going to struggle for a while or even indefinitely, so be it. Integrity first. Truth first. America first.
Thank you and God Bless,
JD Rucker
Bitcoin: 32SeW2Ajn86g4dATWtWreABhEkiqxsKUGn
---
All ORIGINAL content on this site is © 2021 NOQ Report. All REPUBLISHED content has received direct or implied permission for reproduction.
With that said, our content may be reproduced and distributed as long as it has a link to the original source and the author is credited prominently. We don't mind you using our content as long as you help out by giving us credit with a prominent link. If you feel like giving us a tip for the content, we will not object!
JD Rucker – EIC
@jdrucker
---