The world is turning the page on 2021 and welcoming 2022, leading to an assessment of the last 12 months and looking ahead to the next 365 days.
Article by Andrew Moran from our premium news partners at The Epoch Times.
Over the last year, the economy was dominated by a handful of developments: inflation, a global supply chain crisis, the Delta and Omicron variants, trillions in fiscal spending, and easing of monetary policy.
In November, the U.S. annual inflation rate clocked in at 6.8 percent, a 39-year high. The personal consumption expenditure price (PCE) price index, the Federal Reserve's favorite inflation gauge, climbed 5.7 percent, the highest in nearly 40 years.
Official inflation data from the Bureau of Labor Statistics (BLS) show that higher prices are being felt across the board, from food to energy to consumer goods.
It might have been a different Christmas shopping experience than what many shoppers are accustomed to at this time of the year. Whether it was a scarcity of products or surging prices, the international supply chain crisis impacted the holiday season in 2021.
A historic traffic jam at Chinese and U.S. ports, a backlog of shipping containers, public health restrictions, a truck driver shortage, and soaring simultaneous worldwide demand contributed to shoppers altering their gift-giving plans. But the supply chain fiasco has affected more than just buying a child's favorite toy.
The situation has added to the energy crunch witnessed across Europe and Asia, forcing these markets to ramp up coal production and eat into their crude strategic reserves.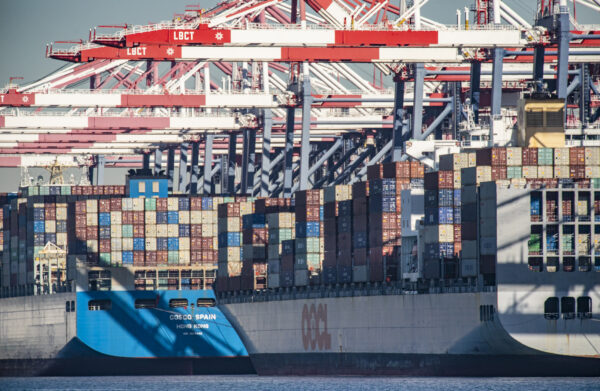 America's labor market has been a mixed bag in 2021.
The U.S. economy is still short between four and six million jobs from before the pandemic, though job openings are close to an all-time high of 11 million. Average hourly earnings increased at an annualized rate of 4.8 percent in November to 31.03, but real wage growth has been eliminated in most sectors due to escalating inflation. In addition, first-time jobless claims are at a pandemic low, while the labor force participation rate is at a 45-year low of 61.8 percent.
The financial markets panicked when the World Health Organization (WHO) called an emergency meeting to discuss a new COVID-19 variant. Many analysts warned that a new strain could weigh on the economic outlook, be it retail trade activity or crude oil demand.
While Delta has affected the economy this year, Omicron has triggered some consternation about the global economic recovery in the home stretch of 2021. Public health experts assert that it is still too early to judge the severity of Omicron, but investors and policymakers have been worried, leading to sharp selloffs in the financial markets and renewed pandemic-related restrictions.
Across the globe, central banks have started to taper their quantitative easing measures that were established to cushion the economic blows from the coronavirus.
The Federal Reserve began trimming its $120-billion-a-month stimulus and relief efforts, with the Federal Open Market Committee (FOMC) also anticipating at least three rate hikes next year.
The Bank of Canada (BoC), the Bank of England (BoE), and the European Central Bank (ECB) joined the tapering bandwagon. However, the BoE moved on interest rates before many of its Western counterparts, hiking the benchmark rate to 0.25 percent, surprising many market observers.
The U.S. government approved trillions of dollars in new spending this year, including the $1.9 trillion stimulus bill in March and President Joe Biden signing off on a $2.5 trillion debt ceiling bill.
Although the House voted for the $1.75 trillion social-spending and climate change investment Build Back Better Act, the legislation's future is in jeopardy in the Senate. Senator Joe Manchin confirmed he would not vote for the bill, leaving many left-leaning officials on Capitol Hill doubtful that it will make its way to the president's desk in the New Year.
Despite the numerous setbacks in the United States, surveys suggest that the economic recovery might be poised for a strong finish in 2021.
Durable goods orders surged at a better-than-expected 2.5 percent, new home sales advanced 12.4 percent in November, and the Conference Board's Consumer Confidence Index climbed much higher than what the market had expected: 115.8 versus 110.8.
"The American economy is closing out 2021 on a high note," said TD Economics in a research note.
Reading the Tea Leaves in 2022
From Omicron fears to President Biden's $1.75 trillion spending initiative potentially on its knees, financial institutions have lowered their 2022 economic outlooks.
Goldman Sachs was one of the first major Wall Street firms to slash its forecasts for the U.S. economy over the next year, citing "modest downside" from the new variant.
The Wall Street giant projects that the U.S. gross domestic product will expand by 2.9 percent in 2022, down from its previous estimate of 3.3 percent.
"While many questions remain unanswered, we now think a modest downside scenario where the virus spreads more quickly but immunity against severe disease is only slightly weakened is most likely," said economist Joseph Briggs in an update.
Mark Zandi, the chief economist for Moody's Analytics, thinks "the economic recovery will be vulnerable to stalling out," writing on Twitter that he anticipates real GDP growth will be 0.5 percent lower if the Build Back Batter Act cannot get passed.
Others aver that it could be too premature to determine if Omicron will play a critical role in the broader economy in the next calendar year.
"It is simply too earlier for it to show in activity data," stated Jefferies economist Aneta Markowska in a weekly note.
On the inflation front, it is widely expected that inflation will be elevated, though many polls of economists suggest higher prices could ease later next year, with price pressures easing.
James Knightley, the Chief International Economist at Think ING, stated that the Federal Reserve believes the factors contributing to a near four-decade high inflation rate, such as supply chain disruptions, and labor market shortages, could dissipate throughout next year.
"But we are not so sure," Knightley said.
"Firms have millions of job vacancies to fill so competition to find workers with the right skill set will remain intense. Demand-supply issues are a global phenomenon with semiconductor producers warning shortages could last through 2023. In an environment of strong demand, record order backlogs and ongoing supply constraints, cost increases can continue to be passed onto customers."
According to the latest Federal Reserve Bank of New York's (FRBNY) Survey of Consumer Expectations, many Americans are penciling in red-hot inflation for 2022: 6 percent, up from 5.7 percent in October.
Market analysts and economists will be paying attention to the scaling back of monetary policy and its impact on the financial markets and the overall economy.
Since 2022 is an election year and the Democrats are trying to hold onto the House and Senate, experts purport that the president will need to convince the public that the country is on the right track. So far, the polls show that most Americans think the opposite is unfolding before their eyes.
Image by Anthony Quintano, CC BY 2.0, via Wikimedia Commons.
---
---
Big Pharma's Five Major Minions that Everyone, Vaxxed or Unvaxxed, Must Oppose
This is not an "anti-vaxxer" article, per se. It's a call for everyone to wake up to the nefarious motives behind vaccine mandates, booster shots, and condemnation of freedom.
The worst kept secret in world history SHOULD be that the unquenchable push for universal vaccinations against Covid-19 has little if anything to do with healthcare and everything to do with Big Pharma's influence over the narrative. Unfortunately, that secret has stayed firmly hidden from the vast majority of people because of the five major minions working on behalf of Big Pharma.
What's even worse is the fact that Big Pharma's greed is merely a smokescreen to hide an even darker secret. We'll tackle that later. First, let's look at the public-facing ringleaders behind the vaccine push, namely Big Pharma. But before we get into their five major minions, it's important to understand one thing. This is NOT just an article that speaks to the unvaccinated. Even those who believe in the safety and effectiveness of the vaccines must be made aware of agenda that's at play.
Let's start with some facts. The unvaccinated do NOT spread Covid-19 more rampantly than the vaccinated. Even Anthony Fauci acknowledged the viral load present in vaccinated people is just as high as in the unvaccinated. This fact alone should demolish the vaccine mandates as it demonstrates they have absolutely no effect on the spread of the disease. But wait! There's definitely more.
This unhinged push to vaccinate everyone defies science. Those with natural immunity may actually have their stronger defenses against Covid-19 hampered by the introduction of the injections which fool the body into creating less-effective antibodies. Moreover, the push to vaccinate young people is completely bonkers. The recovery rate for those under the age of 20 is astronomical. Children neither contract, spread, nor succumb to Covid-19 in a statistically meaningful way. What they DO succumb to more often than Covid-19 are the adverse reactions to the vaccines, particularly boys.
All of this is known and accepted by the medical community, yet most Americans are still following the vaccinate-everybody script. It requires pure cognitive dissonance and an overabundant need for confirmation bias to make doctors and scientists willingly go along with the program. Yet, here we are and that should tell you something.
Before I get to the five major minions of of Big Pharma, I must make the plea for help. Between cancel culture, lockdowns, and diminishing ad revenue, we need financial assistance in order to continue to spread the truth. We ask all who have the means, please donate through our GivingFuel page or via PayPal. Your generosity is what keeps these sites running and allows us to expand our reach so the truth can get to the masses. We've had great success in growing but we know we can do more with your assistance.
Who does Big Pharma control? It starts with the obvious people, the ones who most Americans believe are actually behind this push. Our governments at all levels as well as governments around the world are not working with Big Pharma. They are working for Big Pharma. Some are proactive as direct recipients of cash. Others may oppose Big Pharma in spirit but would never speak out because they know anyone who does has no future in DC.
This may come as a shock to some, but it's Big Pharma that drives the narrative and sets the agenda for the "experts" at the CDC, FDA, WHO, NIH, NIAID, and even non-medical government organizations.
Most believe it's the other way around. They think that Big Pharma is beholden to the FDA for approval, but that's not exactly the case. They need approval for a majority of their projects, but when it comes to the important ones such as the Covid injections, Big Pharma is calling the shots. They have the right people in the right places to push their machinations forward.
That's not to say that everyone at the FDA is in on it. Big Pharma only needs a handful of friendlies planted in leadership in order to have their big wishes met. We have seen people quitting the FDA in recent weeks for this very reason. The same can be said about the other three- and five-letter agencies. Too many people in leadership have been bribed, bullied, or blackmailed into becoming occasional shills for the various Big Pharma corporations. Some have even been directly planted by Big Pharma. That's the politics of healthcare and science that drives such things as Covid-19 "vaccines."
Read the rest of this story, but please be sure to donate first if you can.
---
---
All ORIGINAL content on this site is © 2021 NOQ Report. All REPUBLISHED content has received direct or implied permission for reproduction.
With that said, our content may be reproduced and distributed as long as it has a link to the original source and the author is credited prominently. We don't mind you using our content as long as you help out by giving us credit with a prominent link. If you feel like giving us a tip for the content, we will not object!
JD Rucker – EIC
@jdrucker
---