As pressure mounts on Big Tech firms to curb their invasive data-harvesting practices first implemented to cultivate valuable personal data that can be packaged and sold to advertisers for a premium (indeed, this is how the "free Internet" was built), WSJ has just published a shocking story about how one firm (a defense contractor called "PlanetRisk") discovered it could track sensitive movements of American troops in Syria via data generated by apps on their smartphones.
Article from Zero Hedge.
After making the discovery, the firm used the data to build a surveillance tool that could monitor the travel of refugees from Syria to Europe and the US. The goal was to sell the finished product to the counter-terrorism and intelligence communities.
But, as WSJ pointed out, "buried in the data was evidence of sensitive US military operations by American special-operations forces in Syria."
The fear now is that this data can be bought and sold by America's adversaries to gain valuable intelligence insights into the movements of American forces. Many vendors now sell "global location information from mobile phones to intelligence, military and law-enforcement organizations." The US has struggled to effectively monitor what "software service members are installing on devices and whether that software is secure."
"Our country's intelligence leaders have made it clear that putting Americans' sensitive information in the hands of unfriendly foreign governments is a major risk to national security," he said.
This isn't a new issue. Back in 2019, the Trump Administration moved to force the divestiture of Grindr, the LGBTQ-friendly dating app, which the military and CFIUS – the Commerce Department's board that reviews foreign deals – largely over concerns that data gleaned from the app might be weaponized to track US troops.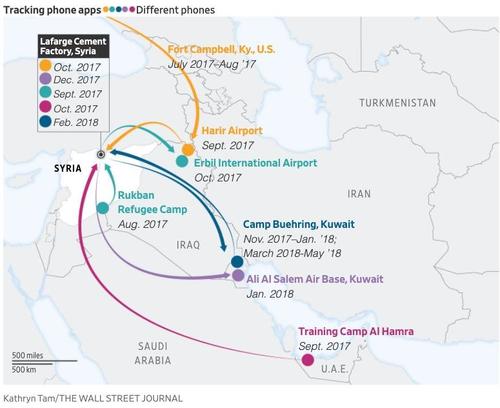 Source: WSJ
While the US government has taken steps to teach operational security best practices to troops, there's little doubt that the US system's approach to commercializing data on behalf of the advertising and technology industries has created massive security holes. And unsurprisingly, China is getting better at exploiting them, while at the same time banning the export of data on its own citizens to prevent any rival countries from tracking its citizens and military personnel in the same way.