As pressure mounts on Big Tech firms to curb their invasive data-harvesting practices first implemented to cultivate valuable personal data that can be packaged and sold to advertisers for a premium (indeed, this is how the "free Internet" was built), WSJ has just published a shocking story about how one firm (a defense contractor called "PlanetRisk") discovered it could track sensitive movements of American troops in Syria via data generated by apps on their smartphones.
Article from Zero Hedge.
After making the discovery, the firm used the data to build a surveillance tool that could monitor the travel of refugees from Syria to Europe and the US. The goal was to sell the finished product to the counter-terrorism and intelligence communities.
But, as WSJ pointed out, "buried in the data was evidence of sensitive US military operations by American special-operations forces in Syria."
The fear now is that this data can be bought and sold by America's adversaries to gain valuable intelligence insights into the movements of American forces. Many vendors now sell "global location information from mobile phones to intelligence, military and law-enforcement organizations." The US has struggled to effectively monitor what "software service members are installing on devices and whether that software is secure."
"Our country's intelligence leaders have made it clear that putting Americans' sensitive information in the hands of unfriendly foreign governments is a major risk to national security," he said.
This isn't a new issue. Back in 2019, the Trump Administration moved to force the divestiture of Grindr, the LGBTQ-friendly dating app, which the military and CFIUS – the Commerce Department's board that reviews foreign deals – largely over concerns that data gleaned from the app might be weaponized to track US troops.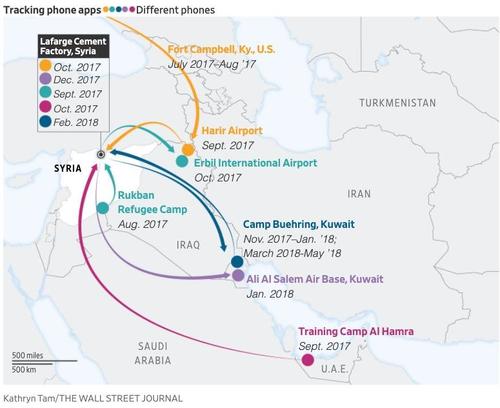 Source: WSJ
While the US government has taken steps to teach operational security best practices to troops, there's little doubt that the US system's approach to commercializing data on behalf of the advertising and technology industries has created massive security holes. And unsurprisingly, China is getting better at exploiting them, while at the same time banning the export of data on its own citizens to prevent any rival countries from tracking its citizens and military personnel in the same way.
---
---
One Sick Day Proves We Need More Voices in Truthful Media
On October 19, I was sick. It crossed my mind that I had finally gotten the 'rona, but my wife's cream of chicken soup and a few extra hours of sleep into mid-afternoon had be back up and running after a sleepless night before.
When I finally stumbled over to my computer in the evening, I was met with a deluge of concern from readers. They asked what had happened as only one article had been posted that day. Generally, we post between 10-20 daily between all of the sites, not included curated and aggregated content. Seeing that we'd only posted my super-early morning article before taking the rest of the day off had readers assuming the worst.
We have a wonderful and talented group of writers who volunteer their time for the sites and their readers. Sharing their amazing perspectives has always been a blessing to us because we cannot afford to hire anyone at this time. But having great writers is meaningless if we don't have great editors, or at least one additional. My wife helps me read and edit stories from time to time, but I'm a one-man show when it comes to getting the stories posted.
Whenever I highlight our desperate need for donations, I note that we do not receive money from Google ads even though most in conservative media are beholden. I often ambiguously note that the money donated will help us grow. Today, I'm highlighting a specific need. We must get an editor to help take some of the load and to expand on our mission of spreading the truth to the world. One sick day proved that.
The great news is that there is no shortage of people who CAN help. I am emailed variations of resumes every week by people who are much smarter than I am. As much as I'd love to hire some of them, we simply cannot. That takes money and as blessed as we've been to receive donations and collect ad money (though not from Google or Facebook), we have still fallen short.
Those who have the means, PLEASE consider donating. We have the standard Giving Fuel option and people can donate through PayPal. We are also diving into what we believe is extremely disruptive technology at LetsGo.finance, the world's first major donation portal for crypto. I'll be talking a lot more about them in the near future. Those who prefer Bitcoin can send to my address here: 3A1ELVhGgrwrypwTJhPwnaTVGmuqyQrMB8
We can get the voices out there and we're willing to shine a spotlight on new talent. We just need the resources to make it happen. If you can help, we would be extremely grateful.
Thank you and God bless!
JD Rucker
---
All ORIGINAL content on this site is © 2021 NOQ Report. All REPUBLISHED content has received direct or implied permission for reproduction.
With that said, our content may be reproduced and distributed as long as it has a link to the original source and the author is credited prominently. We don't mind you using our content as long as you help out by giving us credit with a prominent link. If you feel like giving us a tip for the content, we will not object!
JD Rucker – EIC
@jdrucker
---