Remember this from The New York Times on January 8th…
"Mr. Sicknick, 42, an officer for the Capitol Police, died on Thursday from brain injuries he sustained after Trump loyalists who overtook the complex struck him in the head with a fire extinguisher, according to two law enforcement officials."
Article from Zero Hedge.
And how it was peddled as fact, not pure speculation, rumor, or fantasy and parroted by every NeverTrumper as confirmation that Trump's action led to the "murder" of a Capitol policeman.
— Glenn Greenwald (@ggreenwald) April 19, 2021
As a gentle reminder, a month later, NYTimes quietly retracted that claim:
UPDATE: New information has emerged regarding the death of the Capitol Police officer Brian Sicknick that questions the initial cause of his death provided by officials close to the Capitol Police.
And remember how a few weeks after that the officer's mother said in an interview that the family also remained in the dark, though they believed that being bludgeoned was not the cause of death.
"He wasn't hit on the head, no. We think he had a stroke, but we don't know anything for sure. We'd love to know what happened," said Sicknick's mother, Gladys Sicknick.
And at the same time, no lesser establishment tool than FBI Director Christopher Wray refused to tell senators Sicknick's cause of death. Wray claimed an "ongoing" investigation into Sicknick's death (two months after the officer's death!)
"I certainly understand and respect and appreciate the keen interest in what happened to him — after all, he was here protecting all of you. And as soon as there is information that we can appropriately share, we want to be able to do that. But at the moment, the investigation is still ongoing," Wray said at a Senate Judiciary Committee hearing.

"We're not at a point where we can disclose or confirm the cause of death."
Well, we finally have some answers… and SURPRISE, they are not in keeping with the liberal media's narrative.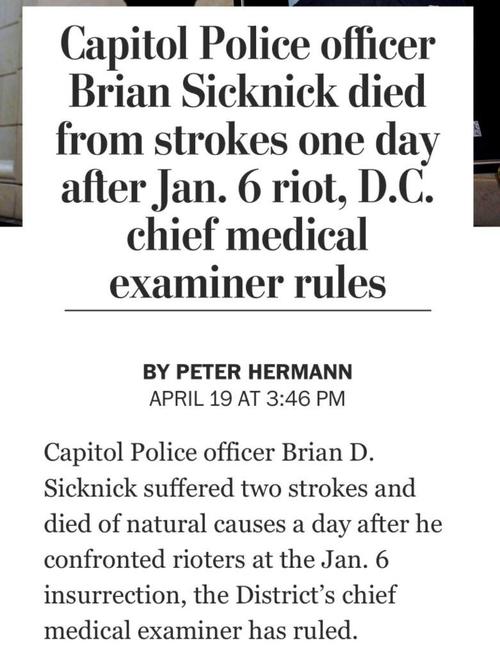 The Washington Post reported today that the D.C. chief medical examiner has ruled that Capitol Police Officer Brian Sicknick suffered two strokes and died of natural causes the day after he took part in defending the Capitol during the Jan. 6 riots.
Medical examiner Francisco J. Diaz, in an interview with the Post, said that Sicknick's autopsy did not find any evidence that the 42-year-old officer suffered an allergic reaction to the chemical substance, which Diaz said would have caused Sicknick's throat to seize.
Diaz also said there were no indications of internal or external injuries.
And just like that, another lie is exposed…
You mean to tell me that yet another narrative peddled and used by corrupt Democrat media to seize power and criminalize their opposition was a complete lie? I'm shocked. https://t.co/sKGVp9VZQO

— Sean Davis (@seanmdav) April 19, 2021
It's sick how they used Sicknick's death to try to cast every Trump voter as an extremist. Most never went inside that day. Rarely discussed is the fact Sicknick was also a Trump voter. Dems used his death anyways to smear a whole movement of people just like Officer Sicknick.

— Robby Starbuck (@robbystarbuck) April 19, 2021
Glenn Greenwald, in his inimitable manner, raged eloquently at the lies…
These people never gave the slightest shit about Brian Sickick. He was a toy to them: they needed to create a lie about how he died because he was the only one they could claim was killed by pro-Trump protesters. So they invented a harrowing story that was complete bullshit.

— Glenn Greenwald (@ggreenwald) April 19, 2021
This is what they do everyday. Please internalize what dishonest propagandists they are. They have zero capacity for critical thought and absolutely no integrity. The only care about serving DNC interests. Just look for yourself: pic.twitter.com/Mnqfdv3Clk

— Glenn Greenwald (@ggreenwald) April 19, 2021
R.I.P. Officer Sicknick.
---
---
We Often Feel Like David Taking on Giants
Today's Goliath is the Mainstream Media Industrial Complex that brainwashes the masses.
Our mission is very straightforward: To counter the false narratives and nefarious agendas destroying America today. It isn't easy for obvious reasons; despite incredible growth over the last year we are still a very tiny fish in a huge media pond. But we're fighting and we will continue to do so, Lord willing, for as long as we possibly can. The battle for America's present and future is too important for us to back down to the giants that stand in our way.
We need help. I don't want to say "desperately," but the need is definitely great. If you have the means, please donate through our GivingFuel page, PayPal, or our brand new GiveSendGo page. Your generosity is what keeps these sites running and allows us to get the truth to the masses. We've had great success in growing but we know we can do more with your assistance.
Thank you, and God Bless!
JD Rucker
---
---
All ORIGINAL content on this site is © 2021 NOQ Report. All REPUBLISHED content has received direct or implied permission for reproduction.
With that said, our content may be reproduced and distributed as long as it has a link to the original source and the author is credited prominently. We don't mind you using our content as long as you help out by giving us credit with a prominent link. If you feel like giving us a tip for the content, we will not object!
JD Rucker – EIC
@jdrucker
---