Remember this from The New York Times on January 8th…
"Mr. Sicknick, 42, an officer for the Capitol Police, died on Thursday from brain injuries he sustained after Trump loyalists who overtook the complex struck him in the head with a fire extinguisher, according to two law enforcement officials."
Article from Zero Hedge.
And how it was peddled as fact, not pure speculation, rumor, or fantasy and parroted by every NeverTrumper as confirmation that Trump's action led to the "murder" of a Capitol policeman.
— Glenn Greenwald (@ggreenwald) April 19, 2021
As a gentle reminder, a month later, NYTimes quietly retracted that claim:
UPDATE: New information has emerged regarding the death of the Capitol Police officer Brian Sicknick that questions the initial cause of his death provided by officials close to the Capitol Police.
And remember how a few weeks after that the officer's mother said in an interview that the family also remained in the dark, though they believed that being bludgeoned was not the cause of death.
"He wasn't hit on the head, no. We think he had a stroke, but we don't know anything for sure. We'd love to know what happened," said Sicknick's mother, Gladys Sicknick.
And at the same time, no lesser establishment tool than FBI Director Christopher Wray refused to tell senators Sicknick's cause of death. Wray claimed an "ongoing" investigation into Sicknick's death (two months after the officer's death!)
"I certainly understand and respect and appreciate the keen interest in what happened to him — after all, he was here protecting all of you. And as soon as there is information that we can appropriately share, we want to be able to do that. But at the moment, the investigation is still ongoing," Wray said at a Senate Judiciary Committee hearing.

"We're not at a point where we can disclose or confirm the cause of death."
Well, we finally have some answers… and SURPRISE, they are not in keeping with the liberal media's narrative.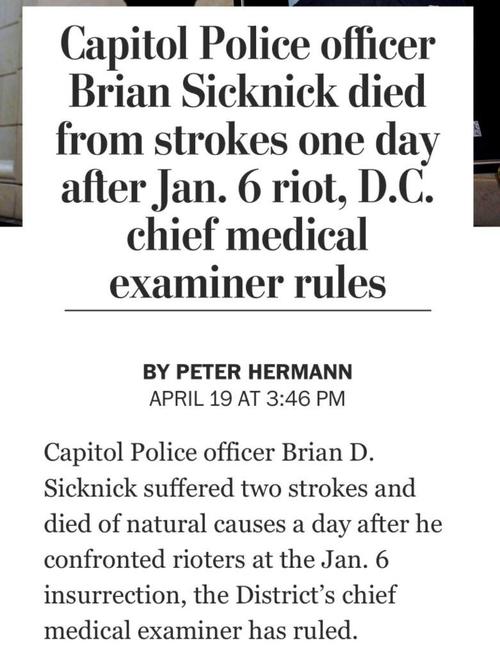 The Washington Post reported today that the D.C. chief medical examiner has ruled that Capitol Police Officer Brian Sicknick suffered two strokes and died of natural causes the day after he took part in defending the Capitol during the Jan. 6 riots.
Medical examiner Francisco J. Diaz, in an interview with the Post, said that Sicknick's autopsy did not find any evidence that the 42-year-old officer suffered an allergic reaction to the chemical substance, which Diaz said would have caused Sicknick's throat to seize.
Diaz also said there were no indications of internal or external injuries.
And just like that, another lie is exposed…
You mean to tell me that yet another narrative peddled and used by corrupt Democrat media to seize power and criminalize their opposition was a complete lie? I'm shocked. https://t.co/sKGVp9VZQO

— Sean Davis (@seanmdav) April 19, 2021
It's sick how they used Sicknick's death to try to cast every Trump voter as an extremist. Most never went inside that day. Rarely discussed is the fact Sicknick was also a Trump voter. Dems used his death anyways to smear a whole movement of people just like Officer Sicknick.

— Robby Starbuck (@robbystarbuck) April 19, 2021
Glenn Greenwald, in his inimitable manner, raged eloquently at the lies…
Between Central Bank Digital Currencies being tested in America and the globalist elite cabal pushing for The Great Reset when the "tests" are over, it's clear Americans need to move their wealth and retirement to precious metals ASAP. Here are
three America-First companies
that do not donate to Democrats or work with the CCP.
These people never gave the slightest shit about Brian Sickick. He was a toy to them: they needed to create a lie about how he died because he was the only one they could claim was killed by pro-Trump protesters. So they invented a harrowing story that was complete bullshit.

— Glenn Greenwald (@ggreenwald) April 19, 2021
This is what they do everyday. Please internalize what dishonest propagandists they are. They have zero capacity for critical thought and absolutely no integrity. The only care about serving DNC interests. Just look for yourself: pic.twitter.com/Mnqfdv3Clk

— Glenn Greenwald (@ggreenwald) April 19, 2021
R.I.P. Officer Sicknick.
---
---
Most "Conservative" News Outlets Are on the Big Tech Teat
Not long ago, conservative media was not beholden to anyone. Today, most sites are stuck on the Big Tech gravy train.
I'll keep this short. The rise of Pandemic Panic Theater, massive voter fraud, and other "taboo" topics have neutered a majority of conservative news sites. You'll notice they are very careful about what topics they tackle. Sure, they'll attack Critical Race Theory, Antifa, and the Biden-Harris regime, but you won't see them going after George Soros, Bill Gates, the World Economic Forum, or the Deep State, among others.
The reason is simple. They are beholden to Big Tech, and Big Tech doesn't allow certain topics to be discussed or they'll cut you off. Far too many conservative news outlets rely on Google, Facebook, and Twitter for the bulk of their traffic. They depend on big checks from Google ads to keep the sites running. I don't necessarily hold it against them. We all do what we need to do to survive. I just wish more would do like we have, which is to cut out Big Tech altogether.
We don't get Google checks. We don't have Facebook or Twitter buttons on our stories. We don't have a YouTube Channel (banned), an Instagram profile (never made one), or a TikTok (no thanks, CCP). We're not perfect, but we're doing everything we can to not owe anything to anyone… other than our readers. We owe YOU the truth. We owe YOU the facts that others won't reveal about topics that others won't tackle. And we owe America, this great land that allows us to take hold of these opportunities.
Like I said, I don't hold other conservative sites under too much scrutiny over their choices. It's easy for people to point fingers when we're not the ones paying their bills or supporting their families. I just wish there were more who would make the bold move. Today, only a handful of other major conservative news outlets have broken free from the Big Tech teat. Of course, we need help.
The best way you can help us grow and continue to bring proper news and opinions to the people is by donating. We appreciate everything, whether a dollar or $10,000. Anything brings us closer to a point of stability when we can hire writers, editors, and support staff to make the America First message louder. Our Giving Fuel page makes it easy to donate one-time or monthly. Alternatively, you can donate through PayPal or Bitcoin as well. Bitcoin: 3A1ELVhGgrwrypwTJhPwnaTVGmuqyQrMB8
Our network is currently comprised of six sites:
We are also building partnerships with great conservative sites like The Liberty Daily and The Epoch Times to advance the message as loudly as possible, and we're always looking for others with which to partner.
Some of our content is spread across multiple sites. Other pieces of content are unique. We write most of what we post but we also draw from those willing to allow us to share their quality articles, videos, and podcasts. We collect the best content from fellow conservative sites that give us permission to republish them. We're not ego-driven; I'd much rather post a properly attributed story written by experts like Dr. Joseph Mercola or Natural News than rewrite it like so many outlets like to do. We're not here to take credit. We're here to spread the truth.
While donations are the best way to help, you can also support us by buying through our sponsors:
We know we could make a lot more money if we sold out like so many "conservative" publications out there. You won't find Google ads on our site for a reason. Yes, they're lucrative, but I don't like getting paid by minions of Satan (I don't like Google very much if you couldn't tell).
Time is short. As the world spirals towards The Great Reset, the need for truthful journalism has never been greater. But in these times, we need as many conservative media voices as possible. Please help keep NOQ Report and the other sites in the network going. Our promise is this: We will never sell out America. If that means we're going to struggle for a while or even indefinitely, so be it. Integrity first. Truth first. America first.
Thank you and God Bless,
JD Rucker
Bitcoin: 32SeW2Ajn86g4dATWtWreABhEkiqxsKUGn
---
All ORIGINAL content on this site is © 2021 NOQ Report. All REPUBLISHED content has received direct or implied permission for reproduction.
With that said, our content may be reproduced and distributed as long as it has a link to the original source and the author is credited prominently. We don't mind you using our content as long as you help out by giving us credit with a prominent link. If you feel like giving us a tip for the content, we will not object!
JD Rucker – EIC
@jdrucker
---