A truly novel "oil for vaccines" plan is being floated Venezuela's "rogue" leader (in the language of Washington) Nicolás Maduro as the impoverished socialist country struggles to obtain enough jabs for its population.
Article from Zero Hedge.
He proposed the initiative at a news conference Sunday, announcing "Venezuela has the oil vessels and has the customers who will buy our oil." And then he said, "We are ready and prepared for oil for vaccines, but we will not beg anyone," according to Reuters.
Tenemos listos dos métodos para obtener las vacunas, a través del mecanismo Covax: Con la liberación del dinero que nos tienen secuestrado, y con el Plan Petróleo por Vacunas. ¡Venezuela tiene dignidad y cuenta con los recursos para garantizar la salud del pueblo venezolano! pic.twitter.com/PD5SCYwXPF

— Nicolás Maduro (@NicolasMaduro) March 29, 2021
Currently Venezuela has received coronavirus vaccine deliveries or further planned-for shipments from Russia and China – who have both it must be remembered been key players in helping Caracas export some of its "banned" oil, following the Trump administration ordered "blockade" of state oil exports which is still in effect.
Many are struggling in this economy. My family is among them. Please support what we're doing here and help us to continue to spread the truth Americans need to read and hear.
Maduro said further that Western countries which have helped enforce US-led sanctions must unfreeze Venezuela's money and accounts in order for it to get the jabs it needs to stave off the spread of the pandemic.
So far it's been able to rely on limited supplies of Russia's Sputnik V, and earlier this month Caracas health authorities approved the purchase of the Sinopharm vaccine, which is a Chinese company.
Currently Venezuela has confirmed over 156,600 COVID-19 cases out of a total population of 28.5 million; however, due to lack of testing for months into the pandemic along with the dire, near-collapsed state of healthcare this figure is believed to be much higher.
Venezuela's plummeting oil production due in large part to sanctions and derelict facilities over the past half-decade…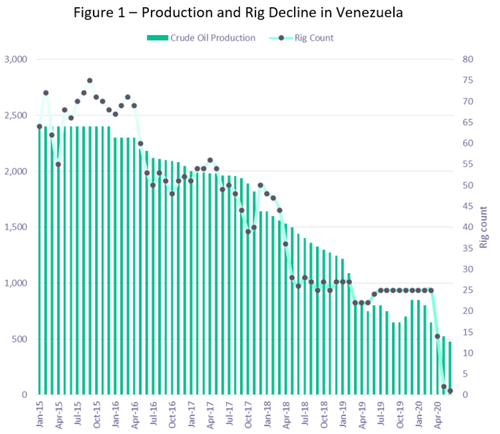 via OPEC & Baker Hughes data/Offshore-Technology.com
Fueling the broader crisis of decaying and collapsing infrastructure and social services in many areas, the country's crude and refined oil exports have recently hit their lowest level in over seven decades.
---
---
They're Trying to Shut Us Down
Over the last several months, I've lost count of how many times the powers-that-be have tried to shut us down. They've sent hackers at us, forcing us to take extreme measures on web security. They sent attorneys after us, but thankfully we're not easily intimidated by baseless accusations or threats. They've even gone so far as to make physical threats. Those can actually be a bit worrisome but Remington has me covered.
For us to continue to deliver the truth that Americans need to read and hear, we ask you, our amazing audience, for financial assistance. We just launched a GiveSendGo page to help us pay the bills. It's brand new so don't be discouraged by the lack of donations there. It's a funny reality that the fewer the donations that have been made, the less likely people are willing to donate to it. One would think this is counterintuitive, but sometimes people are skeptical because they think that perhaps there's a reason others haven't been donating. In our situation, we're just getting started so please don't be shy if you have the means to help.
Thank you and God bless!
JD Rucker
---
All ORIGINAL content on this site is © 2021 NOQ Report. All REPUBLISHED content has received direct or implied permission for reproduction.
With that said, our content may be reproduced and distributed as long as it has a link to the original source and the author is credited prominently. We don't mind you using our content as long as you help out by giving us credit with a prominent link. If you feel like giving us a tip for the content, we will not object!
JD Rucker – EIC
@jdrucker
---