A truly novel "oil for vaccines" plan is being floated Venezuela's "rogue" leader (in the language of Washington) Nicolás Maduro as the impoverished socialist country struggles to obtain enough jabs for its population.
Article from Zero Hedge.
He proposed the initiative at a news conference Sunday, announcing "Venezuela has the oil vessels and has the customers who will buy our oil." And then he said, "We are ready and prepared for oil for vaccines, but we will not beg anyone," according to Reuters.
Tenemos listos dos métodos para obtener las vacunas, a través del mecanismo Covax: Con la liberación del dinero que nos tienen secuestrado, y con el Plan Petróleo por Vacunas. ¡Venezuela tiene dignidad y cuenta con los recursos para garantizar la salud del pueblo venezolano! pic.twitter.com/PD5SCYwXPF

— Nicolás Maduro (@NicolasMaduro) March 29, 2021
Currently Venezuela has received coronavirus vaccine deliveries or further planned-for shipments from Russia and China – who have both it must be remembered been key players in helping Caracas export some of its "banned" oil, following the Trump administration ordered "blockade" of state oil exports which is still in effect.
Maduro said further that Western countries which have helped enforce US-led sanctions must unfreeze Venezuela's money and accounts in order for it to get the jabs it needs to stave off the spread of the pandemic.
So far it's been able to rely on limited supplies of Russia's Sputnik V, and earlier this month Caracas health authorities approved the purchase of the Sinopharm vaccine, which is a Chinese company.
Currently Venezuela has confirmed over 156,600 COVID-19 cases out of a total population of 28.5 million; however, due to lack of testing for months into the pandemic along with the dire, near-collapsed state of healthcare this figure is believed to be much higher.
Venezuela's plummeting oil production due in large part to sanctions and derelict facilities over the past half-decade…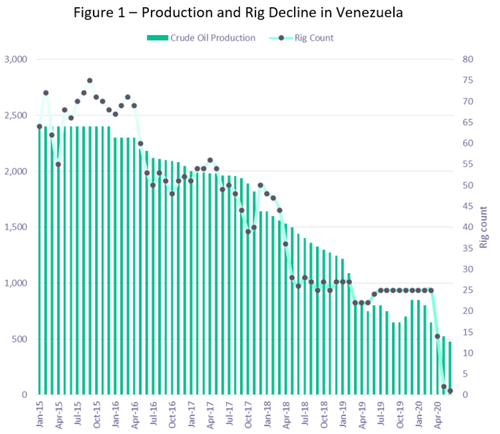 via OPEC & Baker Hughes data/Offshore-Technology.com
Fueling the broader crisis of decaying and collapsing infrastructure and social services in many areas, the country's crude and refined oil exports have recently hit their lowest level in over seven decades.
---
---
Will America-First News Outlets Make it to 2023?
Things are looking grim for conservative and populist news sites.
There's something happening behind the scenes at several popular conservative news outlets. 2021 was bad, but 2022 is proving to be disastrous for news sites that aren't "playing ball" with the corporate media narrative. It's being said that advertisers are cracking down, forcing some of the biggest ad networks like Google and Yahoo to pull their inventory from conservative outlets. This has had two major effects. First, it has cooled most conservative outlets from discussing "taboo" topics like Pandemic Panic Theater, voter fraud, or The Great Reset. Second, it has isolated those ad networks that aren't playing ball.
Certain topics are anathema for most ad networks. Speaking out against vaccines or vaccine mandates is a certain path to being demonetized. Highlighting voter fraud in the 2020 and future elections is another instant advertising death penalty. Throw in truthful stories about climate change hysteria, Critical Race Theory, and the border crisis and it's easy to understand how difficult it is for America-First news outlets to spread the facts, share conservative opinions, and still pay the bills.
Without naming names, I have been told of several news outlets who have been forced to either consolidate with larger organizations or who have backed down on covering certain topics out of fear of being "canceled" by the ad networks. I get it. This is a business for many of us and it's not very profitable. Those of us who do this for a living are often barely squeaking by, so loss of additional revenue can often mean being forced to make cuts. That means not being able to cover the topics properly. Its a Catch-22: Tell the truth and lose the money necessary to keep telling the truth, or avoid the truth and make enough money to survive. Those who have chosen survival simply aren't able to spread the truth properly.
We will never avoid the truth. The Lord will provide if it is His will. Our job is simply to share the facts, spread the Gospel, and educate as many Americans as possible while exposing the forces of evil.
To those who have the means, we ask that you please donate. We have options available now, but there is no telling when those options will cancel us. We have our GivingFuel page. There have been many who have been canceled by PayPal, but for now it's still an option. Your generosity is what keeps these sites running and allows us to get the truth to the masses. We've had great success in growing but we know we can do more with your assistance.
Thank you, and God Bless!
JD Rucker
---
---
All ORIGINAL content on this site is © 2021 NOQ Report. All REPUBLISHED content has received direct or implied permission for reproduction.
With that said, our content may be reproduced and distributed as long as it has a link to the original source and the author is credited prominently. We don't mind you using our content as long as you help out by giving us credit with a prominent link. If you feel like giving us a tip for the content, we will not object!
JD Rucker – EIC
@jdrucker
---